vita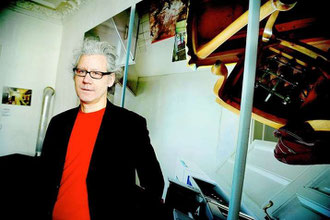 Michael H. Rohde
works and lives in Berlin


Education

  1977-1980  apprenticeship as skilled
                       worker machinist 
1982-1987  study at the technical college
                       Bielefeld to a degreed
                       Mechanical Engineer 
 1995-1998  study at the college
                       Ottersberg to a degreed art-                         therapists and art-pedagogue 
1999-2000   study fine arts at the college Ottersberg by professor Hermanus Westendorp
2001-2002   postgraduate study fine arts (comparable with the master class) HfbK Hamburg
                        by Prof. B.J.Blume



Grants/Awards
2016     2. Price INPHA1, International Photography, Cincinnati/Ohio, USA  
                  1. Price fotoforum award, sector architecture
            Nominierung für AOL-Kunstpreis Nordost 2017
            Nominierung für Kunstpreis Worpswede 2016

2015     Buch "new perspectives" nominiert für Deutscher Fotobuchpreis 2015
2014     1. Price Kulturstiftung der Sparkasse Karlsruhe
                   Photography-price Anerkennung "Baukultur im Bild", Schinkelhalle Potsdam
2013     book-founding "new perspectives", Stiftung Kunstfond
2012     3. Price INPHA1, International Photography, Cincinnati/Ohio, USA 
2011     Grant Käthe-Dorsch-Stiftung, Berlin
2009     Grant Käthe-Dorsch-Stiftung, Berlin 
2008     Grant Käthe-Dorsch-Stiftung, Berlin   
2002/2003  Grant of Bundesakademie für kulturelle Bildung, Wolfenbüttel
2002     Award of Freundeskreises der HfbK Hamburg
Solo-Exhibitions
2017  "new perspectives in Hameln"  Kunstkreis Hameln
         "new perspectives in Rotenburg"  Kunstverein Rotenburg / Wümme
         "new perspectives in Hamburg"  Galerie Level One
          Kunstpreis AOL-Nordost 2017 in Teltow, Neubrandenburg und Berlin
2016  "new perspectives in Bremen"  Galerie Plus, Bremen
         "new perspectives in Bayreuth"  Kunstverein  Bayreuth e.V.,  Bayreuth
               "new perspectives in Rosenheim" Kunstverein Rosenheim e.V., Rosenheim
2015  "Unter anderem" GASAG Kunstraum, Berlin
         "new perspectives in Augsburg" in Neue Galerie Höhmannhaus, Museum
               "new perspectives in Würzburg" Kunstverein Würzburg e.V. auf dem 
           Kunstschiff ArteNoah, Würzburg
               "new perspectives in Trier", Gesellschaft für Bildende Kunst Trier e.V.
2014   "new perspectives in Hannover" NORD/LB Bank, Hannover 
2012   5. Europäischer Monat der Fotografie Berlin, Kunstverein Wedding
2011   "FROM BELOW", Kunstverein Wedding, Berlin
2010   "Nichts ist schön und Viel zu wenig" temp VI secondhome projects, Berlin
2008   "Actionwalk of Fame" (Video, Fotografie, Musik, Performance) WALK OF
           FAME, Hamburg
2007   OFFline-Galerie, Berlin
2005   "Nichts ist viel und schön zu wenig", Villa Ichon, Bremen
2004   Exhibition Sparkasse Bremen (Catalog)
2002   "Nichts ist wahrscheinlich." Bündnis 90/Die Grünen, Bremen 
         "Ab- und Aufbruch", Galerie 22, 2.Trienale of Photography, Hamburg
          (Catalog)
 Group-Exhibitions (selcted)
2017   "Wir tragen keine Euen nach Athen" Raum für drastische Maßnahmen Berlin
         documenta Kassel, Standort Ulanbaataar / Mongolei
2016   Konditionalgefüge, Kunstverein Berlin-Neuköln, Berlin 
         Kunst Aktuell 2016, Städtische Galerie Rosenheim 
               Kunstpreis Worpswede 2016, Hotel Adlon Kempinski Berlin
         Ausstellung "Baukultur im Bild. Räume + Menschen", Meßkirch
2015   "Pathologie des Raumes" KunstvereinGRAZ e.V., Regensburg
         OSTRALE`O15, Dresden

         "15 Jahre Junge Kunst Bremen", Sparkasse Bremen
               "Berlin Photography", Carpentier Galerie, Berlin
                JUST ANOTHER ART FOR LIFE EXPERIENCE, Betakontext Berlin-Wedding
         Ausstellung "Baukultur im Bild. Räume + Menschen", Stuttgart, Naumburg,
           Kassel, Landau
2014   Ausstellung Fotografiepreis "Baukultur im Bild. Räume+Menschen", Potsdam

               Große Kunstausstellung NRW, Museum Kunst Palast (Catalog)
               "Reparaturkultur" Group Global 3000, Berlin
         Fotografiepreis "Baukultur im Bild. Räume + Menschen"
2013   POWER COLLECTOR´S LOUNGE, Berliner Liste
               Film/Video-Festival FIVE-YEARS GAS-station, Berlin
               "HEIMsuchung", Kunstmuseum Bonn, (Catalog)
               "The Legend of the Shelves" AUTOCENTER, Berlin, (Catalog)
               Große Kunstausstellung NRW, Museum Kunst Palast (Catalog)
2012   "Wiedereröffnung" Galerie Walden, Berlin
               30x30, Neuer Worpsweder Kunstverein
               "down under" 5. Europ.month of Photografie Berlin KV Wedding
               "high on low", Kunstverein Wedding on Sprengelsafari, Berlin
               Jahresausstellung Lippstädter Kunstschaffender, Städt.Museum
               KiC Nord Art 2012, Rendsburg/Büdelsdorf (Catalog)
               The Stream Of No Unconsciousness Kreuzberg Pavillion, Berlin
               Große Kunstausstellung NRW, Museum Kunst Palast (Catalog)
2011   WE CAN START A PROCESS, Kreuzberg Pavillion, Berlin
               EGOMANIA, Music-Performance-Project, MIB Bremen
               8. Berliner Kunstsalon, Art Fair UFERHALLEN, Berlin (Catalog)
               LEISTUNGSSCHAU, Berlin Kunsthalle am Hamburger Platz
               MISREADING, The Forgotten Bar Project, Berlin
2010   RoSpeRo in SKALITZER140_TEMPORARY, Berlin
               7. BERLINER KUNSTSALON, Berlin
               100. Exhibition Autocenter, Berlin
               "Helter Scelter" Kulturpalast Wedding, Berlin
               "germanica humira" Galerie im Regierungsviertel (The Forgotten Bar), Berlin
               "dump art" Galerie Freudenreich, Berlin (Catalog)
               VisualContainerTV, online video exhibition, Milano Italy
               10Jahre Junge Kunst Sparkasse Am Brill, Bremen (Catalog)
2009   2. Bienale of Thessaloniki, Greece, (Catalog)
               Temporary Kunsthalle Lugano, Schwitzerland
               1. Bienale in Mecklenburg Vorpommern, Kleinzetelvitz
               Temporäre Kunsthalle Friedrichshain, Berlin  Portrait, G.A.S.-station, Berlin
                Zirkus Minimus, Berlin
2008   "BEASTS" KAPITALISTISCHER REALISMUS 2.0, Berlin
                "Lebenswelten" Altes Rathaus, Potsdam
                "home at last-alone" KAPITALISTISCHER REALISMUS 2.0
2007   MOZ Kunstpreis 2007, Schloß Neuhardenberg (Catalog)
               DIE HAMBURGER GALERIE of Modern Art, Hamburg
                Huntenkunst, Doetinchem Niederlande (Catalog/CD)
               questa vidua II, KunstUndKulturForum qv, Weesow/Berlin
2006   MOZ Kunstpreis 2006, Schloß Neuhardenberg (Catalog)
               Architekturfotografie Land Brandb. "Im güldenen Arm", Potsdam  
               KiC Nord Art 2006, Rendsburg/Büdelsdorf
               Kunstverein Harburger Bahnhof, Hamburg
               "Auf Treu und Glauben" KLEINE GALERIE Eberswalde
2005   Große Kunstausstellung NRW, Düsseldorf (Catalog)
                index 05  -  Kunsthaus Hamburg (Catalog)
                KiC Nord Art 2005, Rendsburg/Büdelsdorf
               "Mit Gewalt gegen Mitarbeiter muss gerechnet werden."
                Bremer Kunstfrühling, Haus im Park (Catalog mit CD)
2004   terra cognita - REM - Neues Museum  Weserburg Bremen
               DIE HAMBURGER GALERIE of Modern Art, Hamburg
               BBK Brandenburg, Produzentengalerie "M", Potsdam
               "Kunst in der Börse"  Handelskammer Hamburg (Catalog)
               Jahresausstellung, Kunstverein Wedemark
2003   SWB Galerie  -  Stadtwerke Bremen AG (Catalog)
               > Raum 01 <   Galerie Bebensee Hamburg
                index 03  -  Kunsthaus Hamburg (Catalog)
                Galerie Panketal, Berlin
2002   Jahresausstellung, Hochschule f. bildende Künste Hamburg
2001   Bremer Förderpreis Städtische Galerie im Buntentor, Bremen
                Jahresausstellung, Hochschule f. bildende Künste Hamburg
                "Häuserlandschaften", Kunstverein Wedemark
2000   "work & exhibit" in Projektraum Rosa-Luxb.-Str. Berlin (Catalog)
                Kunstpreis Jesteburg, Thema: Romantik 2000 (Catalog)
1999   Am Wall,  Bremen
Videographie
2009   "the bedroom of the republic", DVD 09.41min 5.1 DSR-Installation
2008   "double feature 1", Installation 13.55min DVD 
          "double feature 2", Installation 09.25 min DVD 
          "I prefer to go cherryeating", DVD 17.18 min 5.1 DSR-Installation
2007   "take off place village-church, 45 min DVD 
          "nothing unusual happening" 12.50 min DVD 5.1 
          "coloured wash/Buntwäsche", 15.05 min DVD 5.1 
          "bedstory", DVD 13.45 min 5.1DSR-Installation 
          "the jampump/Die Marmeladenpumpe part 1,19 sec DVD 
          "the jampump part 2", 12.18 min DVD
2006    "media nox malum", 7.32 min DVD 
          "periculum nosco narsiphon", 2.25 min DVD
facebook